Established in 1925, the Aldes Group is an international, family-owned group of more than 1,400 employees and with subsidiaries in 14 countries.
History

1925 Setting up of the French Family business Aldes, specialised in cutting die-stamping and metal air grilles manufacturing.
1969 New French regulation modify the requirements concerning ventilation in housing in France.
Over the years 1970 to 1980
1970 Aldes launch the self-balanced mechanically controlled single-flow ventilation techniques. Creation of the Export Department. Aldes launches in France the self-balanced mechanically controlled double-flow ventilation system with static heat recovery.
Over the years 1980 to 1990
1982 Aldes develops the humidity-controlled ventilation system (the airflows of exhaust air depending on the humidity of each room).
1984 Aldes enters the Fire Protection market (fire dampers and air exhaust dampers) for aerolical networks by integrating SGEI, the French leader in this field.
1988 HCI Hélistra (Sacilor Group) specialized in the manufacture of ventilation and air conditioning ducts and accessories comes under the umbrella of the Aldes Group.
Over the years 1990 to 2000
1990 Aldes enters the centralized vacuum cleaning market.
1994 Aldes became the Number 1 in Europe for centralized vacuum cleaning systems for private dwellings and commercial premises.
1995 Continuing on from a long tradition of innovation, Aldes launches a range of active silencers used to eliminate ventilator noises transmitted in aeraulics ductworks.
1998 Aldes creates Temperation®, a new thermodynamic centralised zoning air handling system, which is mid-way between ventilation and air conditioning.
1999 Launch of the new generation of the Isone® evolutive circular fire damper. Aldes launches its international development with Europe and Asia.
Over the years 2000 to 2009
2000 Aldes begin the production of air grilles and diffusers – with the integration of the specialist Euro Register. 2001 Adoption and setting up of an enterprise resource planning system: The SAP ERP application..
2006 Launch of heat recovery ventilation complementary technologies: night over-ventilation, earth cooling tubes… 2008 New logistic pattern leading to the setting up of a centre in Mions (French town)
2009 Aldes launches its Domestical Températion® systems: T. Zen and T. Flow. The thermal comfort through the air. Involvment in the Airpac's capital, manufacturer of heating pumps. Today Aldes group positions itself as major player in the European market.
Key Figures
Consolidate sales since 1985 in euros.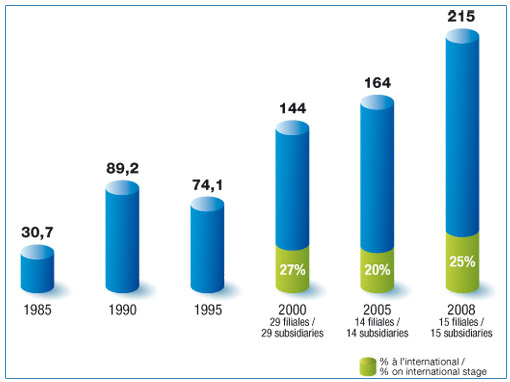 Consolidate manpower since 1985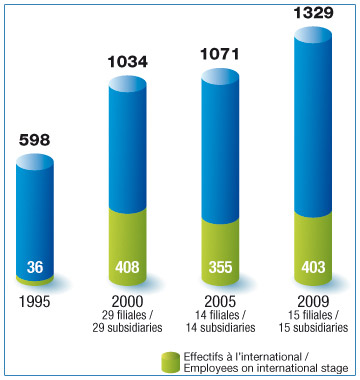 Industrial resources :
France : 4 factories (45 200 m²) and 1 logistic centre (18 600 m²)
Foreign factories (20 000m²) : Belgium, UAE, China .
Workshops for ductwork : 5 in France and 3 in other countries